Arte e Pico award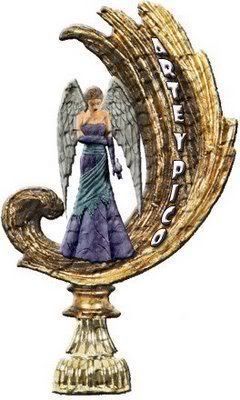 On July 27 Lilso Awarded me the Arte e Pico price.
Here are the rules:
1) Pick 5 blogs who deserve this award for their creativity, design, interesting material and who also contribute to the blogging community no matter what language.
2) Each award must have the name of the author and also a link to their blog.
3) Each award winner must show the award and put the name and the link to the blog that has given her or him the award.
4) The award winner and the one who has given the prize must show the link of the "Arte y Pico" blog so everyone will know the origin of this award.
It took me some time to make up my mind, but as we have to chose… Here they are:
I chose those blogs because they are not about crochet (surprise! you didn't think I could do that!) but I find in them a source of i,nspiration and joy whenever I vivit them, their webmistresses are original and talented, they are also generous and share their experience and their knowledge without asking anything in return.
La Bobine,
a goldmine of information on sewing.
Bittersweet,
You didn't know you loved desserts before seeing hers… She redefines the word "veggan".
Erica B's DIY style,
You could believe she's a pro, what she does is so perfect… the proof all you need to succeed is work, and work… and work.
De la toison à la laine,
it's all in the title ! a wooly dream.
Techknitting,
If somehow the spirit of knitting efficiency was to chose a Human host, it would be that woman, her blog is becoming a gigantic teaching book… Awesome!
Voilà!
I wish I could say more about other blogs that I enjoy and read often, but I have no doubt someone else will !
Classé
dans
chit chat
,
news
,
Cet article
écrit le 04.08.08 à 22:59:20 par Pyo
totalise 1917 vues...
2 commentaires »
2 commentaires
Commentaire
de: Hannah [Visiteur]
·
http://www.bittersweetblog.wordpress.com
Aw, thank you so much for the award! I'm not sure if I'll have the time to pass it along, but I really do appreciate that you would even think of me.
06.08.08 @ 17:01
Commentaire
de: Pyo [Membre]
The pleasure is all mine
08.08.08 @ 11:00
Flux de commentaires pour cet article
Les commentaires sont fermés pour cet article.